Resource loading in Primavera P6 is a time taking process. Normally, clients prefer to get the logic part first; then, they will ask you to load resources, including Cost, Manhours, and Quantities.
Recently, I was deputed where the logic part was finalized, but the resource part was to submit in 3 days only 🙂
It's a high-rise building of 40 storeys, mind you.
I used here some short cut techniques that may help anybody any day.
Make sure to read till the end then suggest if this is OK to go!
I have divided this into two parts, Cost and Manhours loading.
Files: Download files I used from this link 
Note: This method is best for the Tendering schedule otherwise.
Cost Loading from BOQ
The following steps were performed to load the cost from BOQ.
Step – 1: Below snap of a Demo plan without Budgeted Cost and Budgeted Units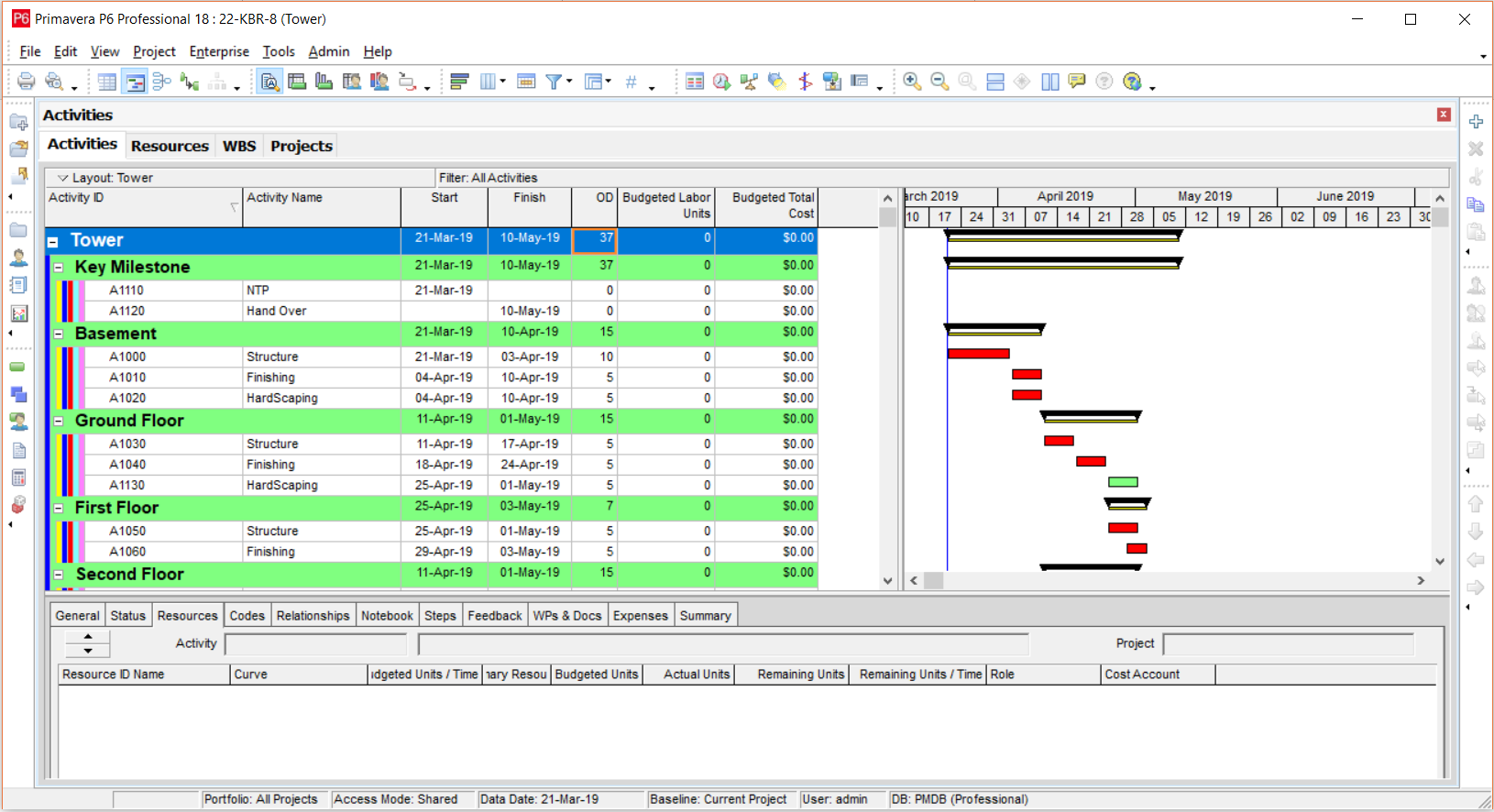 Step -2: Let's add a materials resource.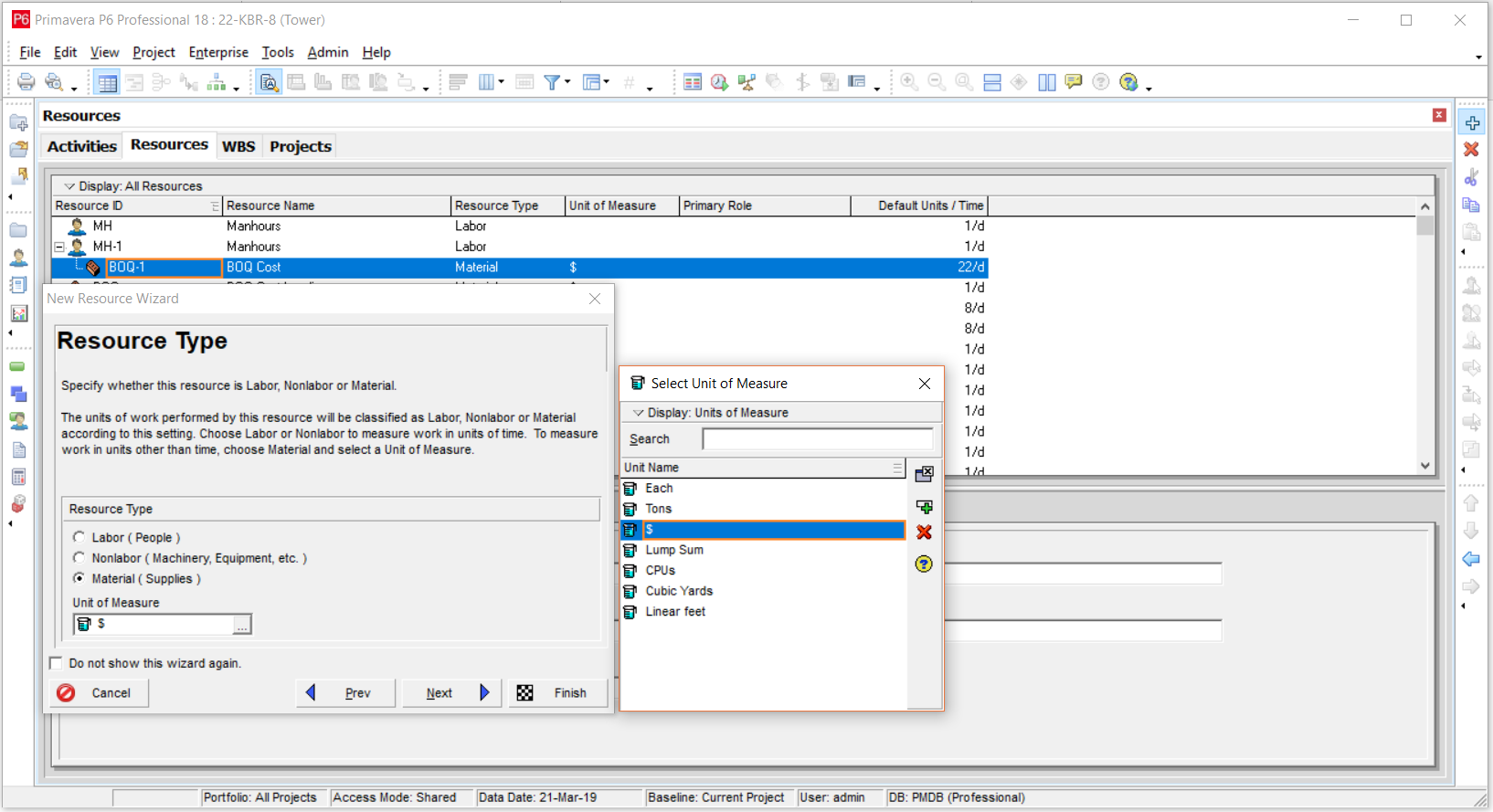 Step -3: Put Price/Unit, Default Units/Time & Max Units/Time = 1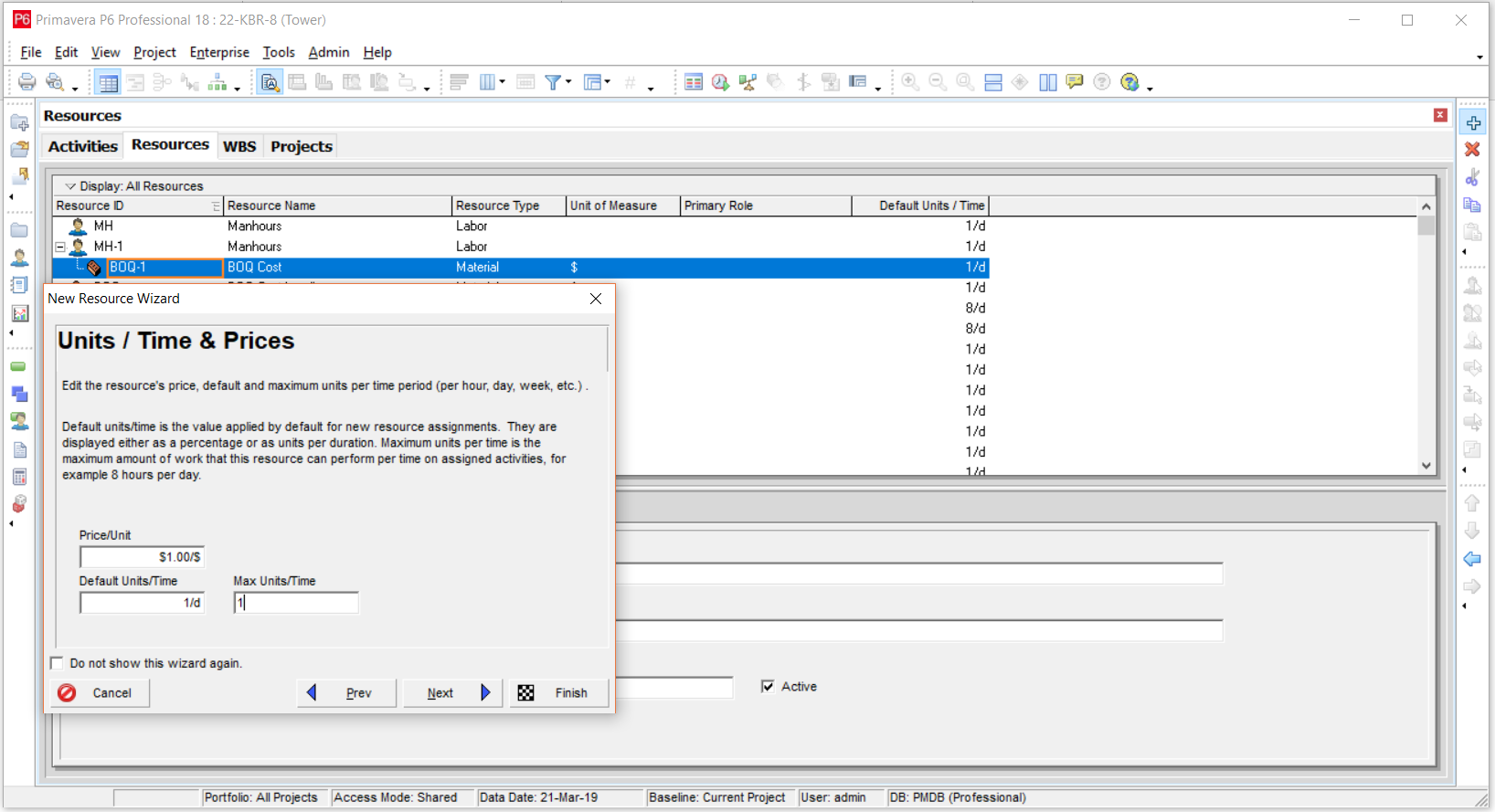 Step -4: Apply this resource to all activities. Holding a shift key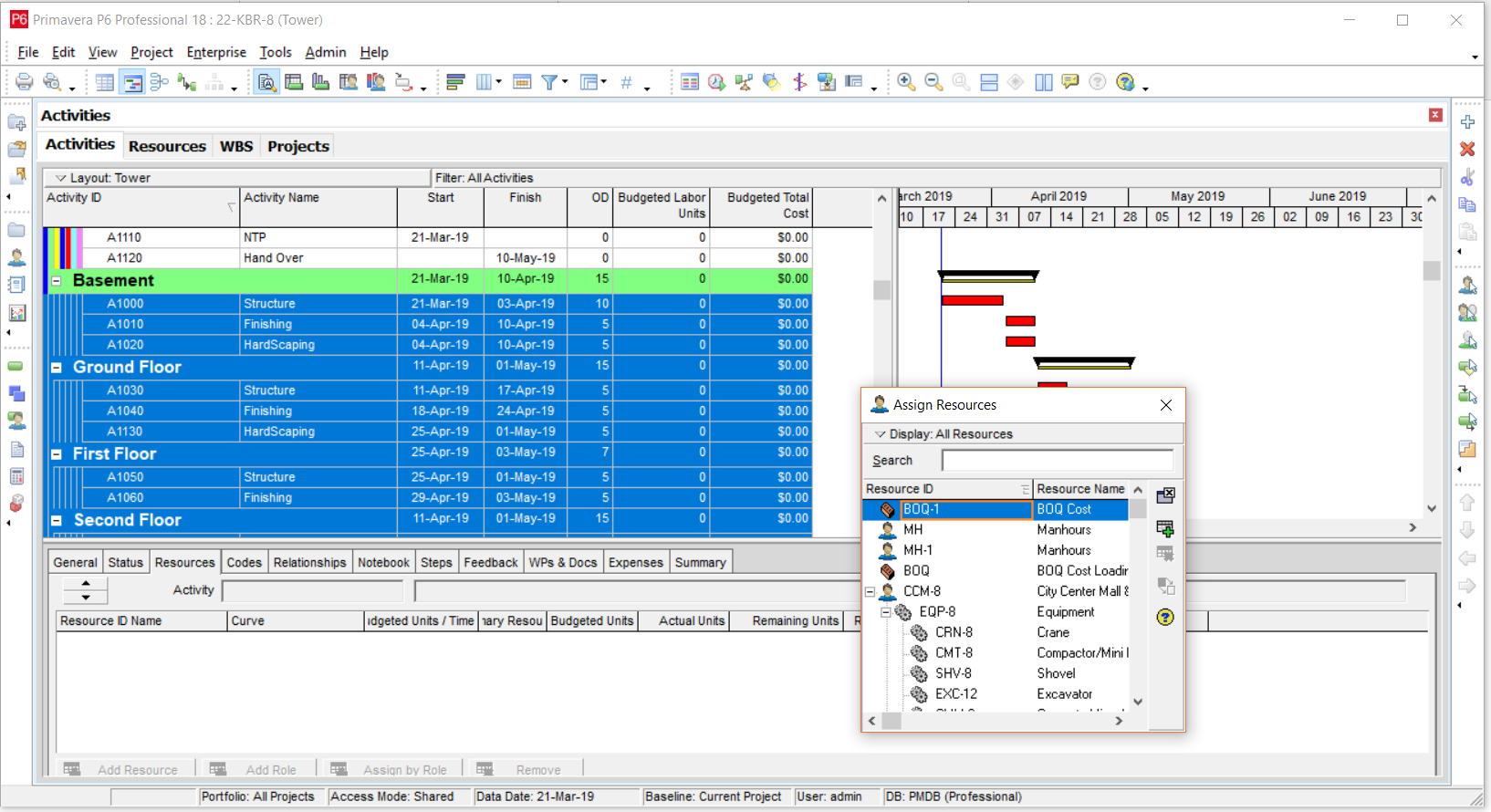 Step -5: This is a just Demo BOQ from which we will upload the cost.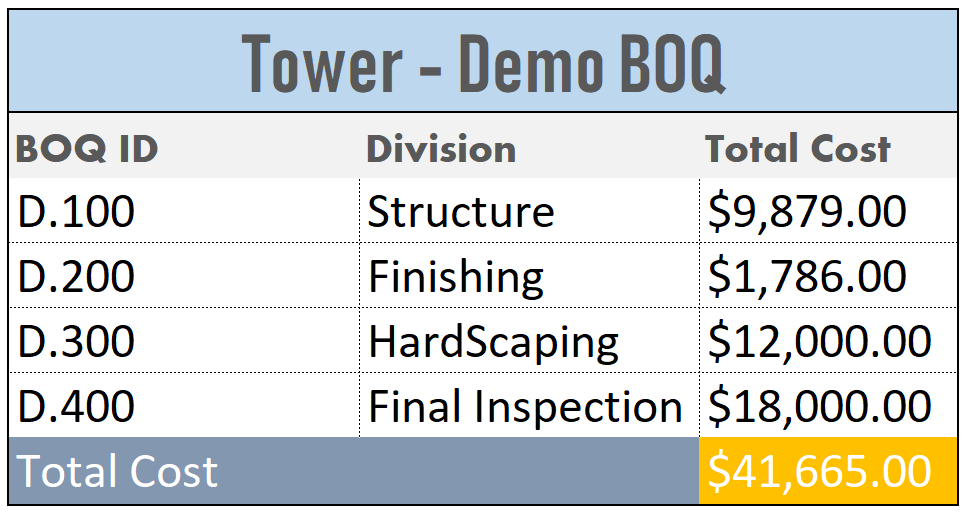 Step -6: After that, I filtered the same activities in all areas and divided the cost from BOQ to that number. Like here, I have 3 activities for hardscaping, and I divided 12000 $ by 3 and put this value to the program by a global change as below.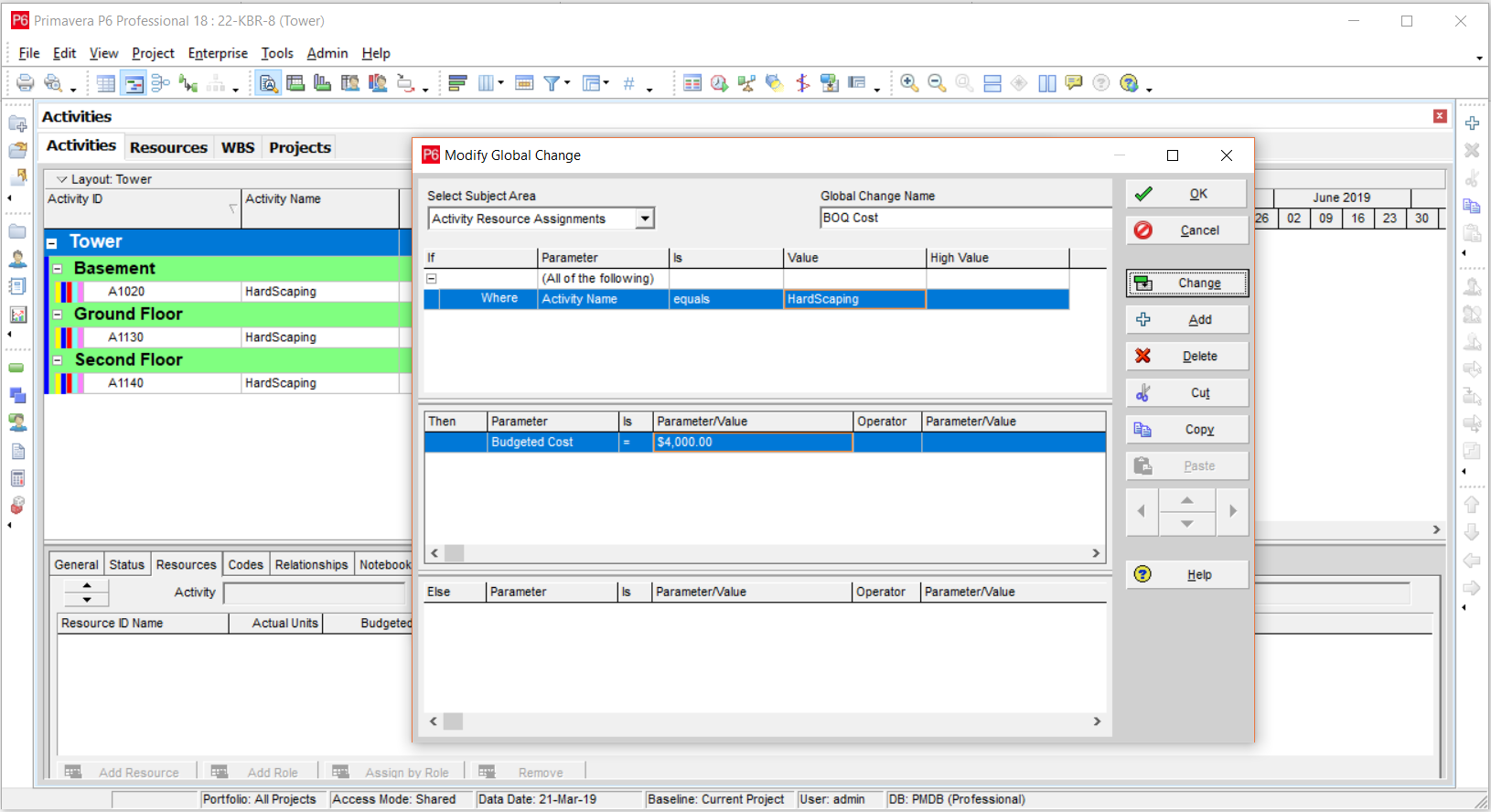 Step -7: Review the global change and click Commit Changes.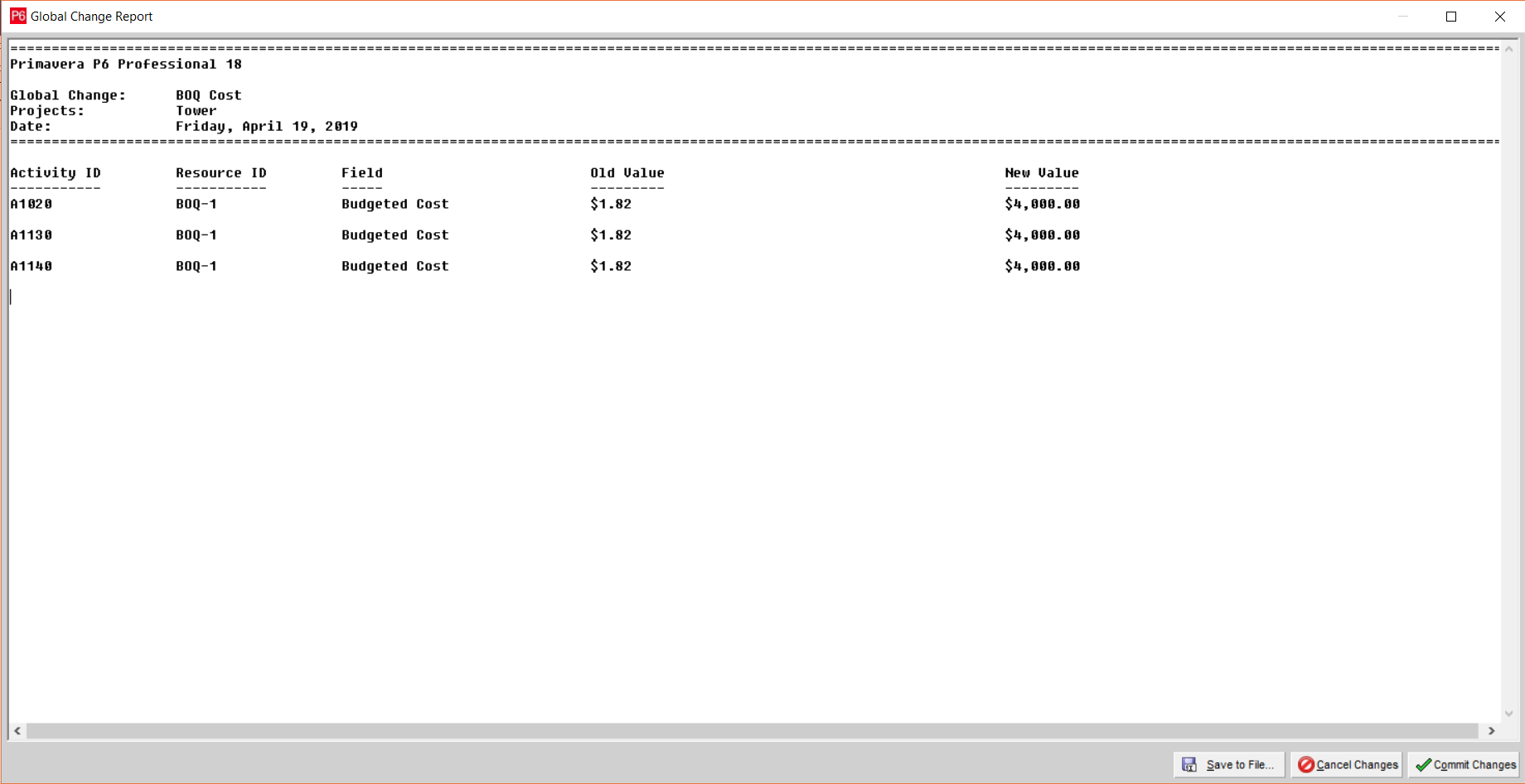 Step -8: We got the value. As you can see, Apply this to the rest of the activities by following the same global change method. Like here, could you do it for Structure and Finishing?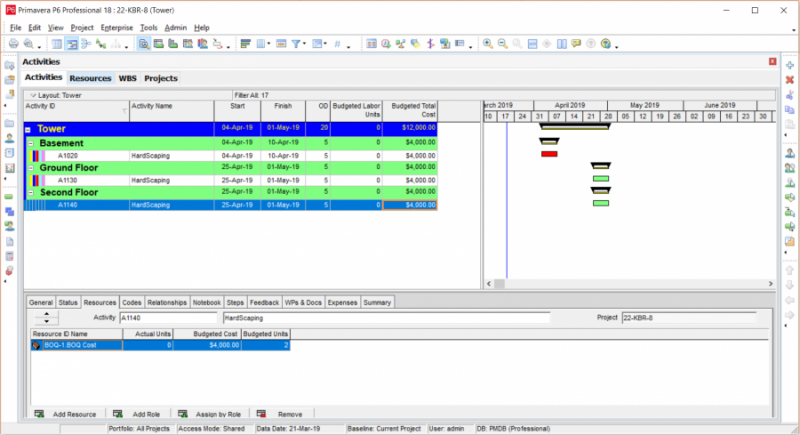 Step -9: Make sure to apply the below global change or else your cost may not Export to other machines – Thanks to Korai from Planning Team for helping here
Step -10: Now, if you see Budgeted Cost is not equal to Budgeted Units, You can skip this but better to make everything align.
Step -11: Make below global change to equalize.
Step -12: After all this, copy this project and also make an MS Excel export for Resources as below;
Make a filter like below;
Click next and save that MS Excel export at an appropriate location.
Manhours Loading from Cost
Once cost loading is done, then you can go for manhours. See below steps
Step – 1:  Same way, make a Labor resource
Step – 2: Select, labor and click next
Step – 3: Put value = 1 in each box
Step – 4: Apply this to all as we have done in the cost loading section
Step – 5: Our goal is to get Budgeted Units for Manhours equal to that of Budgeted cost or Budgeted units of BOQ Cost Resource
Step – 6:  Apply the below filter and export at an appropriate location
Step – 7:  Open both Excel sheets we have exported till now. Apply, VLOOKUP formula in the latest sheet at as in below snip. It will get the same values for Manhour resource
Step – 8:  Values we will get from Cost Loading Excel sheet
Step – 9: Once you apply vlookup, then copy all the value from the column where we applied vlookup and paste as it is in all the other columns, as you can see below. Make sure it should be as text as Primavera P6 reads in the book. Save and Close this sheet.
Step – 10: Import the above sheet where we put the same values to the program. This process is simple; you need to go to  File>Import>Spreadsheet>Next>Locate the Sheet>Check boxes and Finish.
Step – 11: Now, the cost values got doubled. Remove the cost from labor by applying below Global Change.
Step – 12: Here, I assumed the manpower required is 10% of the total cost. This is just my assumption from previous projects from the same firm. You can have as per your experience, and it may vary to project types.
Step – 13: This is the final I got from all this process.
Wrap Up
This cost was further refined as per floors in a meeting with the Project Manager, Quantity Surveyor, and other stakeholders. Same way, manhours were adjusted after meeting the site team.
All in all, the refinement was not time taking as it was just a matter of typing.
S Curves were generated, and the program is with the management.
FEATURED POSTS
---
Download Primavera P6
To download and install Primavera P6 was never that easy as nowadays. By following these steps…
What is PMP?
What does PMP stand for? You are here as you just have heard about PMP, or you know a little already but have some …
Stakeholer Engagement
A stakeholder is any individual, a group of people or an organization that can affect or be affected positively….
Work Breakdown Structure
Work Breakdown Structure is simply a tool that breaks the work down into a structure…
Project Management
Project management is how you apply the knowledge, skills, tools, and techniques to get the project management …
Gantt Chart
A Gantt chart is also known as bar chart represents a project plan by making each task into a bar and …
Planning Engineer
Planning Engineer is considered the right-hand of a Project Manager as he floats the information about project…
Team Development
Dr. Bruce W. Tuckman, a psychologist published a theory in 1965 called 'Tuckman's Stages of Group Development'.
---