Definition: Graphical representation of quantities like cumulative costs, labor units, etc., plotted against time.
An S-Curve is one of the major tools used in Project Management that tracks project progress over time. It is a graphical representation that gives the required information in a flash.
Hence all the Project Stakeholders always demand to have these s-curves in the reports as it helps them get the project status without any hassle.
Related: Work Breakdown Structure
Elements for an S Curve?
It is clear by definition that it is a graph & you know, to draw a graph, we must need at least two coordinated values to plot against each other. Here, time is common in every S-Curve.
To understand in a better way, let's discuss some of the most common S-Curves used in Project Management below;
You can see it is quite flat initially, so in the end, steeper in the middle is typical of most projects.
The curve represents the cumulative work done over time & hence the steepness or flatness gives us the rate of work overtime.
It is clear that you need fewer resources at the initial stage, but we call it the execution phase that needs the maximum of all the resources in the middle. The end is the same as the initiation phase.
Uses of S Curves
The best use of S curves is in Earned Value Management. A tool that helps the project manager and the team to understand the variance is any project in no time.
Earned Value Management
The earned value management system uses historical data to forecast the future.
Let us see how a combination of s curves help in determining the project important scenarios like;
The project is on budget.
The project is on schedule.
Earned value management helps to find out the slippages that ultimately alert the team to negotiate. It is a complete set of ongoing project information that tracks in the best possible scenarios. And more importantly, through S curves, anyone in the team can understand the status in a flash.
Below is the infographics representation to understand the system easily.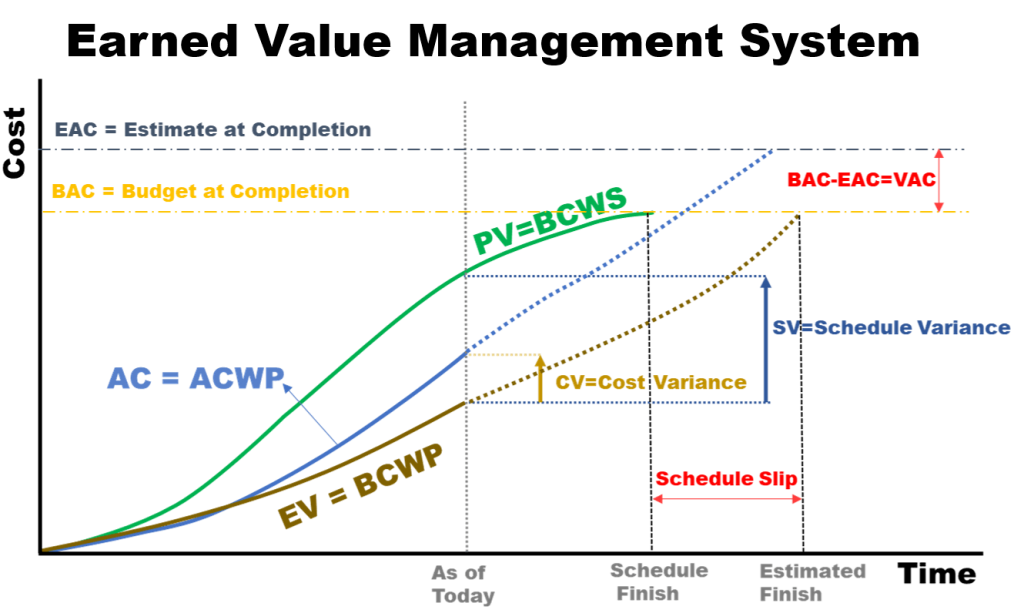 From this, you can easily calculate;
Schedule Performance Index – SPI 
SPI = EV/PV, if
SPI<1, the project is behind schedule
SPI=1, the project is on schedule
SPI>1, the project is ahead of schedule
Cost Performance Index – CPI
CPI = EV/AC, if
CPI<1, the project is over budget
If CPI=1, the project is on budget
CPI > 1, the project is under budget
The same way we can calculate and drive the forecast from other formulas like,
EAC – Estimate at Completion = 
BAC/CPI
AC + (BAC – EV)
AC + [(BAC – EV)/(SPI x CPI)]
AC + ETC
ETC – Estimate to Complete = 
VAC – Variance at Completion = BAC – EACTCPI – To Complete Performance Index =
(BAC – EV) / (BAC – AC)
(BAC – EV) / (EAC – AC)
More S Curves on a Project
Also, as I am working in Project Controls and my Project Manager is always demanding to show every possible data in the form of S – Curves like my weekly and monthly reports include the following S-Curves;
Baseline S-curve
Baseline Ranges (Banana Curves)
Man-hours Vs. Time
Recovery Plan Vs. Actual
Cash Flow – Plan & Actual & Forecast
Quantity Comparisons
Progress and Performance Evaluation
Manpower Histogram
Percentage S-curves
It's a great way to monitor project performance, variance & ultimately forecast to achieve the required goals.
You can have all history, current status & forecasting in one graph. S-Curves are easy to communicate & give clear indications about the health of the project.
Practical Examples of S Curves To better understand how to read S Curves, let me explain the below fig. scenario; at a particular date, we call it Data Date or Cut of Date.
The Actual Progress is below the Baseline Value, and that difference is called Variance. As you know, there are three common project tracking methods that are
Person-hours
Cost
Quantity
 Now, the Project Manager needs to look at and either need to increase the resources we call it Crashing or they need to Fast Track the activities that may lead to Risk issues.
But they need to act upon any of these to increase the work rate as overall project health is not acceptable for that particular time. They can use both simultaneously. 
Real Case Study for Understanding S-CurvesNow, once everything is analyzed, we may need to submit a recovery plan, also called a mitigation plan, showing how we will catch up on the delays.

These curves are not as we have seen the typical one, but this may happen in practical scenarios. Here the client has asked to hand over a few major areas in the middle of the project.
That leads to differing work rates as in typical curves scenarios. As you see, the Green & Red are representing the Early Units and Late Units, respectively.
The combination of both gives us a Banana Curve. If the project slips below the Red zone, then it is an alarming thing that should be fixed immediately without any delay.
This is a real example where we were asked to submit Recovery Plan, where we were slipping below the Redline; you can see the Blue like for actual work.
We acted upon it immediately and submitted our action plan that included an increased workforce, an expedition of required critical materials delivery, and fast-tracking of several activities.
We presented this to Stakeholders, performed it, and wrote this blog the day we are as per our recovery plan without any negative Variance.
Man-Hours Versus Time S-Curve
Below is the graphical explanation of how we increased the manpower to catch up with the above delays for that particular project. No doubt there is a huge difference in planned, actual & recovery.
This may be because we overestimated Productivity Rates. As we were delayed in some critical material, we have to deploy the other skilled manpower simultaneously.
Some of our manpower becomes idle for the time being – waiting for material to be procured & to be delivered onsite.
How is an S-Curve Generated? First of all, we need to have a baseline plan. From this, we can generate early start & early finish S-curves.
You know a combination of both is called a Banana curve. This baseline program can be prepared in planning software like Primavera P6, MS Project and Asta, Tilos, SAP, etc. These may give you S Curves directly, or you need to use some third-party applications like Microsoft Excel to get it done after exporting data.
I normally use Primavera P6 and export data in MS Excel as it gives me the freedom to use the required visualization necessary to present to top management.
Before doing this, I prefer to see the result in Primavera P6 so that if there is an issue with it, as in Primavera, you can get S Curves of almost every type.
Wrap Up
S Curves are one of the most valuable Project Management Tools for reporting a project. As it is the best way to communicate with the Stakeholders, and you know, better communication is the key to any project's success. That's all about S Curve Project Management. Thank you for bearing with me. If you have any suggestions for improvement of this blog, please comment below. I will try to fill that gap where possible.
FEATURED POSTS
---
Download Primavera P6
To download and install Primavera P6 was never that easy as nowadays. By following these steps…
What is PMP?
What does PMP stand for? You are here as you just have heard about PMP, or you know a little already but have some …
Stakeholer Engagement
A stakeholder is any individual, a group of people or an organization that can affect or be affected positively….
Work Breakdown Structure
Work Breakdown Structure is simply a tool that breaks the work down into a structure…
Project Management
Project management is how you apply the knowledge, skills, tools, and techniques to get the project management …
Gantt Chart
A Gantt chart is also known as bar chart represents a project plan by making each task into a bar and …
Planning Engineer
Planning Engineer is considered the right-hand of a Project Manager as he floats the information about project…
Team Development
Dr. Bruce W. Tuckman, a psychologist published a theory in 1965 called 'Tuckman's Stages of Group Development'.
---