How to become a Project Manager, practically there are two ways;
1). Educational Way
2). Accidental Approach
I will discuss in details later, but if you wanted to be a Project Manager, then you need to think about the following scenarios;
Do you like to accept challenges?
You think you have leadership qualities naturally!
You are in the process industry and fed up with your daily routine – Thinking to switch.
Project Manager: A Project Manager is a person who accepts challenges and gets them done through the application of project management tools and techniques.
Roads to become a Project Manager.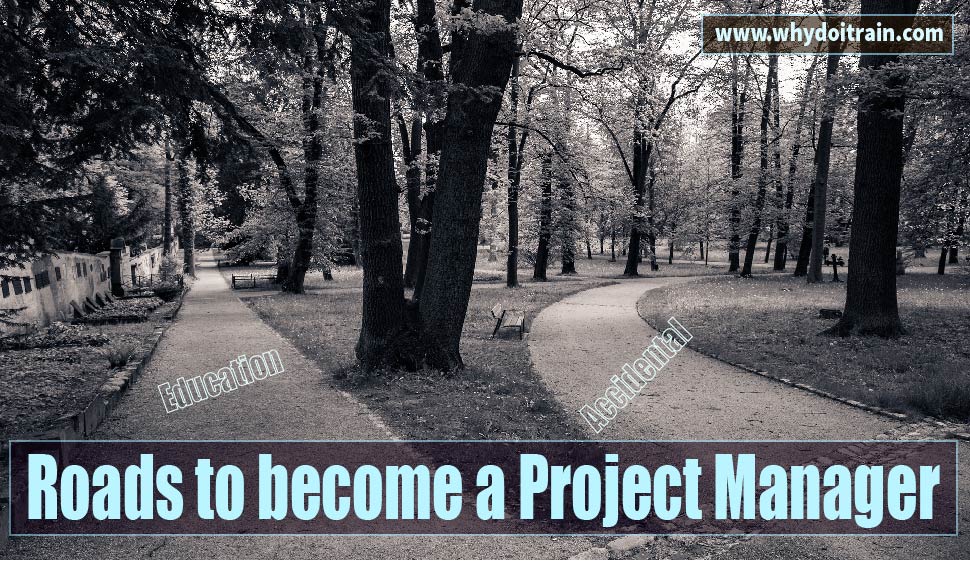 There are two ways t become a project manager.
Accidental – The Accidental Project Manager (Experienced Bases)
Educational – Project Management Degree and Certification
Accidental – The Accidental Project Manager (Experienced Bases)
This type of Project Manager has no plan to get into project management but somehow fell into it.
Normally, this guy is an experienced manager & managing his areas well. Still, somehow some hierarchy in the organization becomes dotted, and management doesn't want to get any trainee to fill these dots, then this manager is "forced" to manage the project by hook or by crook.
Now, let say you are the one who is the "affected" one and you don't know about any professional body in project management, no idea about big PMBOK by PMI® then this is your best time to excel on by following the below steps;
Your questions, what is PMI®? – Man, this is an entity that provides professional knowledge about project management. Follow it, act accordingly, and you are done.
Ways to become Successful Accidental Project Managers.
Following are the pieces you need to follow to get through;
No More Manage – Now Lead
The main difference between a manager and a leader is the ways you deal with your team. Be a mentor and a leader as well. The success of every project depends on how you influence people throughout the project phase.
A Project Manager always deals with a new team most of the time. It is not like a process industry, and hence you need to evaluate your team as soon as possible before delegating any important task.
Education – Project management Education
Please manage some project management education through formal or informal means. You can go for any certification like Project Management Professional – PMP®by PMI®. This education will give you confidence as you may be lacking at the start and will become familiar with nomenclature.
Accident to Asset Conversion
Mow a day's hierarchy of organizations is getting flatten with the technological era. Hence, you cannot avoid these kinds of circumstances, but determination can hold on to anything. Be an asset rather than be a liability for the better interest of your organization and yourself.
Educational – Project Management Degree and Certification
This looks an easy way rather as you know at the very start that you are going to b Project Manager, but it happened rarely. I have come across most accidental managers above 95% are conventional or accidental ones. But now the time has been changed and organizations are looking for an educated Project Manager, or you need to get an education once you become through accidental manners.
I have compiled a list of education that you can follow and can be hot property for any organization or any human resource recruiter worldwide.
PRINCE2 – Foundation/PRINCE2 Practitioner
PMP® by PMI® – Project Management Professional
CAPM by PMI® – Certified Associate in Project Management
CPMP by PMI® – Certified Project Management Practitioner
MPM: Master Project Manager
PPM – Professional in Project Management
PMITS – Project Management in IT Security
CPD by GAQM – Certified Project Director (CPD)™
CPM (IAPM) – Certified Project Manager
CSM – Certified ScrumMaster
Above listed courses, certifications are worthy of having. Each one is claiming to be a better one than others.
As a PMP®– PMI® certified, it will be biased to evaluate others' certification, but I may leave it to you to dig it more as per availability and your schedule.
Wrap Up
I can say either you are forced to get involved as a project manager or a pre-planned product. Keep in mind this field is way different than typical industries where you get pre-defined skilled. But here, you need to evaluate yourself & your team to get optimum results.
It would also be best if you got an education further & further even though you are qualified already as the world is changing rapidly and skills are getting outdated soon. This is all about How to Become a Project Manager.
Keep yourself updated always!
FEATURED POSTS
---
Download Primavera P6
To download and install Primavera P6 was never that easy as nowadays. By following these steps…
What is PMP?
What does PMP stand for? You are here as you just have heard about PMP, or you know a little already but have some …
Stakeholer Engagement
A stakeholder is any individual, a group of people or an organization that can affect or be affected positively….
Work Breakdown Structure
The heaviest fine is for drifting that is 20,000 for the first time, 40,000 SAR for second and 60,000 SAR for the third violation.
Project Management
Project management is how you apply the knowledge, skills, tools, and techniques to get the project management …
Gantt Chart
A Gantt chart is also known as bar chart represents a project plan by making each task into a bar and …
Planning Engineer
Planning Engineer is considered the right-hand of a Project Manager as he floats the information about project…
Team Development
Dr. Bruce W. Tuckman, a psychologist published a theory in 1965 called 'Tuckman's Stages of Group Development'.
---